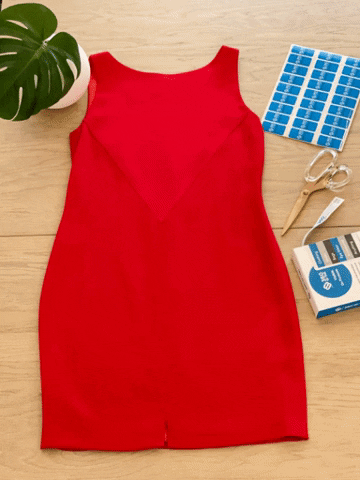 BECAUSE RETURN POLICY ABUSE HAS NO PLACE IN E-COMMERCE

The most common target for return policy abuse is women's dresses. Let our 360 ID Tag do its work to protect your merchandise from a growing number of return fraud cases involving wear and return or tag switching. The secure return tag is self-explanatory for buyers and cost-effective for businesses.
Deterring return fraud from the outset is becoming essential for online businesses, with apparel returns hitting 30%. Plus, the anonymity of e-commerce has some consumers feeling emboldened to circumvent return policies which is where the 360 ID Tag comes into play, preventing:

• Wardrobing / wear and return
• Counterfeit product switches
• Price tag switches
• Tag tucking
• Snap and send back / social media wardrobing
The Extended Loop pack is perfect for merchants and marketplace sellers with an inventory requiring long lengths of return tag material. Think wedding dresses, dresses, coats, pants, jeans, and jackets. All done for 98 cents per item. Saving just one product from being devalued by wear and return pays for the 360 ID Tag many times over.
WHAT'S INCLUDED
• 2 rolls of pre-printed, recyclable return tag material – 22mm wide, total 328' / 100m in length
• 45 tamper-evident security seals
• Dispenser box for easy handling
• Average of 6'-10' of return tag material per use
• Return Policy wording written in English, Spanish and French: "Returns will only be accepted if this 360 ID Tag remains attached"

HOW TO USE
Dispense enough return tag to create a complete loop around the item that you want to protect. Attaching through a strapless dress will use around 10' of return tag material as you create a loop through the entire garment. Pants, jeans, short dresses, and coats can be similarly tagged through the leg, side seams, or sleeves. Because the return tag material is soft, it won't damage your items, nor will it stretch or accidentally rip.
To make a secure loop, thread the return tag through your item, whether new or preloved and wrap the blue tamper-evident security seal around the ends. To readily authenticate returns, take note of the unique ID number printed on the seal.
And then repeat… 44 more times!
Your buyer can still try on the garment in the comfort of their home; the return tag won't get in their way as they assess fit and style.
If your buyer decides that they like what they see, they can use scissors to cut the 360 ID Tag off, or the tamper-evident security seal can also be peeled back, separating the 2 ends of the return tag.
Those buyers wanting to return their item just leave the anti-return abuse tag on the garment, making for a predictable returns process for them and your business.
The permanent VOID pattern that is revealed when the tamper-evident security seal is removed is visually verifiable, making return policy abuse easy to discover.
See how to apply the secure return tag here.
If you have any questions about the 360 ID Tag, please contact us.