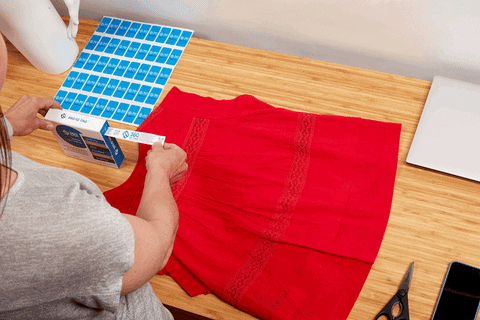 Imagine not having to worry about the threat of return policy abuse!
Like a store security tag, but created specifically for modern e-commerce, the 360 ID Tag is designed for online merchants and marketplace sellers who crave protection from return policy abuse. It still allows buyers to try or inspect purchases in the comfort of their home, but not wear or use items once and then return them for a full refund.
With the 360 ID Tag attached to your clothing, shoes, bags, and accessories it deters return fraud cases like:
• Wardrobing / wear and return
• Counterfeit product switches
• Price tag switches
• Tag tucking
• Snap and send back / social media wardrobing
At just 64 cents per item tagged, the Classic Loop pack is perfect for merchants and marketplace sellers with a variety of inventory.
WHAT'S INCLUDED
• 1 roll of pre-printed, recyclable return tag material – 22mm wide, 164' / 50m in length
• 45 tamper-evident security seals
• Dispenser box for easy handling
• Average of 3'-4' of return tag material per use
• Return Policy wording written in English, Spanish and French: "Returns will only be accepted if this 360 ID Tag remains attached"


HOW TO USE
Dispense enough return tag to create a complete loop around the item that you want to secure. For example, a long sleeve needs about 3' but a button-hole only needs 4". Don't worry the return tag material is soft, doesn't stretch or tear, and won't damage merchandise.
Thread the return tag through your item, whether it is new or preloved, and wrap the blue tamper-evident security seal around the ends to create your secure loop. Take note of the unique ID number printed on the seal to easily authenticate returns.
And repeat!
When your customer has committed to keeping their purchase, they simply cut the 360 ID Tag with scissors or peel back the tamper-evident security seal.
If your customer wishes to return their item, they simply leave the secure return tag intact, making for a predictable returns process for both your buyer and your business.
Identifying return policy abuse is easy as the tamper-evident security seals reveal a permanent VOID pattern when removed, so returns can be visually validated.
See more how to use tips here.
If you have any questions about the 360 ID Tag, please contact us.